It was 1976 in Three Rivers, Michigan. Judith "Judy" Kovacs-Long, MA, LPC, was in celebration at a bicentennial event.
She turned to her then-husband, Bill, and pushed her long hair behind her ear to reveal newly placed jewelry.
"I got my ears pierced and I'm going to graduate school," she told him.
Both decisions could have been considered bold moves, given the times.
But she had an important job to do. After attending a one-day workshop for women, she knew she wanted to become a counsellor, specifically addressing women's issues and concerns.
She may not have always taken the conventional route, but her pioneering spirit has taken her on many journeys with the same end – for the benefit of the community.
Before there were security cameras and when the town was much smaller, a group of PTA moms, including Judy, came up with the idea of ​​painting the hoof markings blue at New Braunfels High School. The group snuck onto campus in the middle of the night to paint the hoofmarks – which Judy says are still there – in support of the high school football team.
"John Turman was manager at the time and coach Chuck Engler was there. They knew exactly who did it," Judy explained.
She's dropped a few well-known names as her sidekicks, but can we still get in trouble with the principal?
After moving to New Braunfels from Michigan in 1979, Judy taught Hatha yoga through the Community Education Program. She joined Barbara Teigen's campaign committee, helping the city council member run for mayor.
She helped form a women's business networking group in New Braunfels. They called themselves the Uppity Women United. The group was the forerunner of the women's chamber.
Judy's passion to be a women's champion stems from what she saw and felt in the 1970s.
"It's so hard for women today to understand how isolated women felt back then," she explained. "All my research at the time showed major depression in women."
Many families were one-car families and housewives were isolated at home, Judy said.
Her journey to becoming a counselor began with a teaching degree.
"My mom saw something during the Great Depression," Judy explained. "She saw that the teachers were eating. His family was hungry. She told me they would send me to school, but I had to get a teaching degree.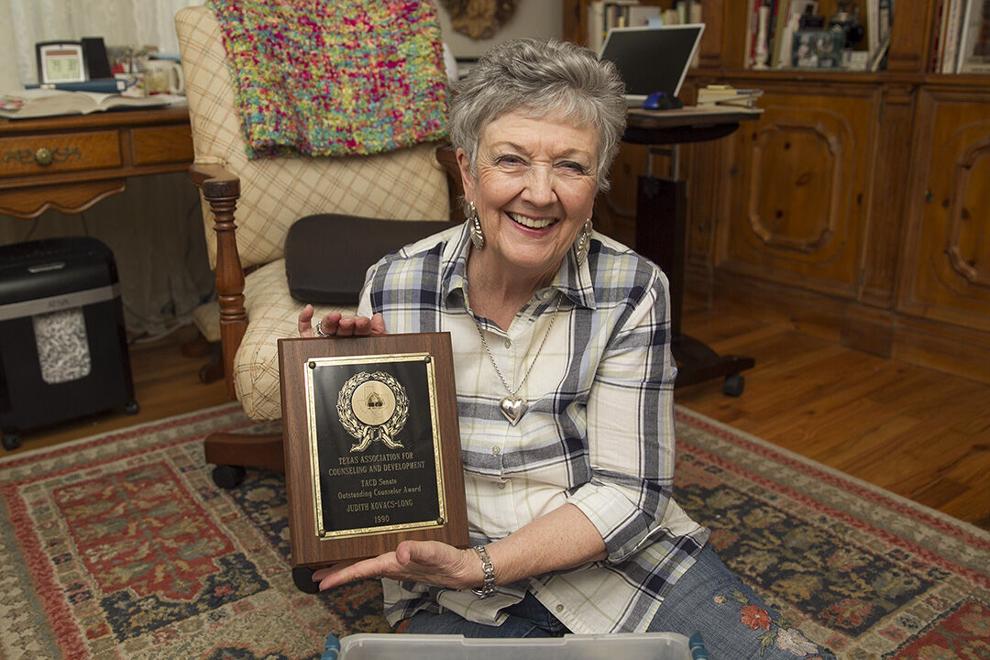 She started teaching English in high school where she grew up in Ohio. But when her family moved to Michigan, it was hard to find a job.
"They had too many teachers. I felt betrayed. My mother told me to go into teaching so that I would always have a job," she explained.
She went back to school and after earning her master's degree in counseling from Western Michigan University, Judy and her family moved to New Braunfels.
"It's the best thing that ever happened to me," she said.
She worked at the Women's Center at San Antonio College. She taught assertiveness training, business classes and other skills to women who were recently divorced, victims of domestic violence, starting over or learning to live on their own.
She has been active in both the Texas Counseling Association and the American Counseling Association. In 1990, the Texas Counseling Association named her counselor of the year. She worked in private practice in New Braunfels and also helped found Hope Hospice in 1983.
"Elisabeth Kuper-Ross had written a book 'On Death and Dying', and it was normal to talk about death," said Judy, whose father had been treated in hospice.
When her children Randy and Erin were in school, she volunteered in several school activities. She participated in the "Just Say No" campaign to help teens manage or avoid substance or alcohol abuse and was recognized by former First Lady Nancy Reagan for her work. She helped start Project Graduation at New Braunfels High School, providing a safe place for seniors to stay overnight and participate in games and activities instead of being on the road.
She would go on to serve on one of the first boards of the Comal County Violence Shelter, serve on the Citizens Police Academy Alumni Association, and serve as co-chair of the GuadaComa Garden Club. She continued to write workshop training programs for Hope Hospice and other organizations. When her marriage was dissolved, she went to work full-time before retiring in 2006. At the time of her retirement, she was an associate professor at San Antonio College and chair of the counseling department.
Judy kept her practice private until the pandemic. She continued to volunteer in the community serving on the Charitable Giving Committee for the Rotary Club of New Braunfels, working at Sts. Peter and Paul Church Thrift Shop, and singing in the church choir.
Judy leads a Good Grief support group for anyone who has experienced the loss of a loved one from 1:15 p.m. to 2:45 p.m. every Thursday at the Westside Community Center.
"Grieving is a process. There is a beginning, a middle and an end. Change begins with an end. We talk about grief and normalize the grieving process so we don't feel out of step with the rest of the world," Judy said.
That's part of why she helped Hope Hospice at the Remembering the Time of COVID memorial service in May to help the community come together to acknowledge the shared grief caused by the pandemic.
"Our stories are different now. They're changed. It's like the kachina dolls of the Native American tribes. The kachina doll is the keeper of the stories. Who we are, how we got here, how we feel. Everything has changed" , said Judy.
She knows a thing or two about change and travel.
"It's about how we're going to be in this different world and redefining that journey," she explained.